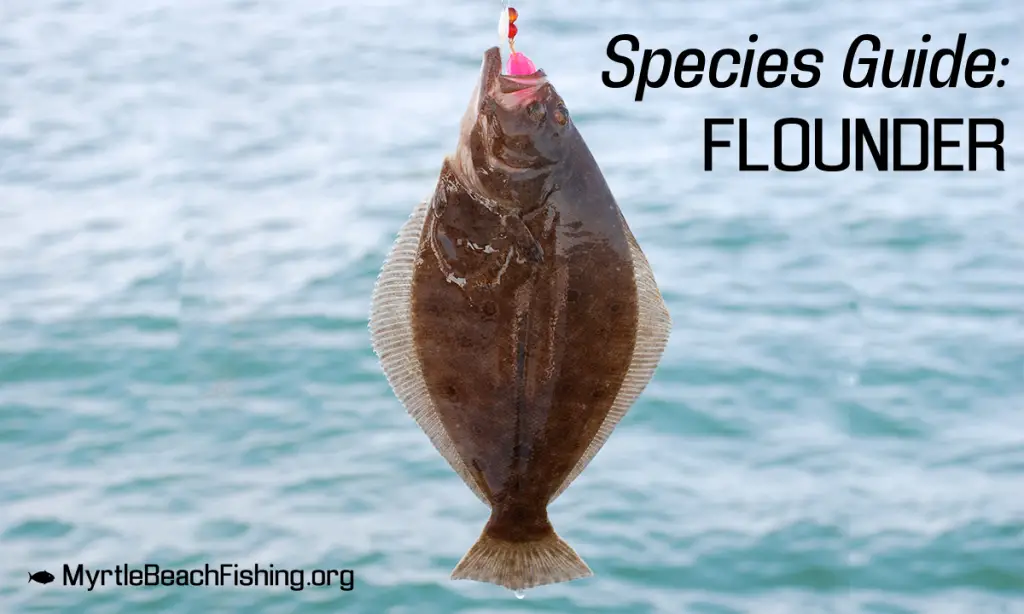 Flounder fishing is quite popular in Myrtle Beach because there are lots of them available there. The flounder fish is quite peculiar with two eyes on one side of the body. They are quite aggressive in nature and eat shrimps, minnows and will target soft plastics as well.
Flounder are excellent table fare as well! Starting July 1st, 2017, Flounder must be a minimum of 15 inches to harvest in South Carolina. You are limited to 15 flounder per day and a total of 20 per boat. The meat is very tasty with a white flaky texture that is amazing as a fried dish. Highly recommended!
Follow all state and local South Carolina regulations and make sure to bring a tape measure if you plan to keep Flounder on your fishing adventures. To catch saltwater fish in South Carolina you'll need a license which can be purchased at any bait and tackle shop for $10 for residents and nonresidents for $35 per year or $11 for a 14-day license.
Tips For Catching Flounder
Flounders will spend most of their time during winters at the offshore grounds in the ocean. During spring, flounder will migrate back to the shallow estuaries. They will stay there for the entire summer and return to the offshore grounds in the winters. People often say that there is an art to catch flounder and they are pretty easy to catch with a few instructions. You will need certain tools which are necessary to catch one.
Rig For Success To Catch Flounder
Use proper tackle and rig. We reccomend that you use a Carolina Rig when targeting flounder with a short 6-8 inch leader. It's recommended you use 10-20 lb test monofilament line with a 1 oz sinker.
Use a fresh bait as it will attract more bites. You can use live baits like shrimps and mullet. Keep changing the bait frequently if the bait is less lively.
Use enough weight on the line. When going for bottom fish like Flounder you need to use enough weight for your rig to touch the bottom even with mild currents. Typically 1/2 oz or 1 oz sinkers work well, but in cases off near-shore fishing with lots of current, you may have to increase the weight to 2oz or 3oz.
Spots To Fish In Myrtle Beach For Flounder
Fishermen must know where to find flounder. The fishes can be anywhere where saltwater and the waterways connect. They will settle near the cooler water and as the temperature goes up, they will drop down deeper in to the waters. If the water keeps warming up, the fishes would be looking for swift water and deep pockets. Fishermen often park in the shallow water around the edge. Flounder will usually be sitting on the edge on in the middle of the hole.
Look for changes in elevation on the floor of where you are fishing. Flounder commonly are found in backwaters where the water height changes.
Best Live and Artificial Baits To Catch Flounder
Serious flounder pros have always said that batfish is the best bait for flounder. Most of the batfish work for flounder but flounder can be selective also. Fishermen can use a wide variety of batfish like mullet, mud minnow, croakers etc. shrimps also work well too. You should remember that if you want to catch large flounder fish then you need to put bait which is 3 to 4 inches long. Artificial baits like soft plastic ones with different colors having curly tail are a good option.
Recommended Tides To Target Flounder
The best Myrtle Beach flounder fishing happens on a rising tide at an inlet. When tide falls, the fishes head out to the ocean side of an inlet. When the tide rises, it brings them back inside. They follow the same migration pattern of the bait fishes. Moving water is the key to flounder fishing so it is important that if you want to catch big, the fish during that time. During the low timed, the fishermen tend to fish in the channel and at the mouth of the inlets. During the high tides, flounder will move into shallow water like oyster beds areas, sea walls, docks etc.